2021 Love Among the Ruins
Grenache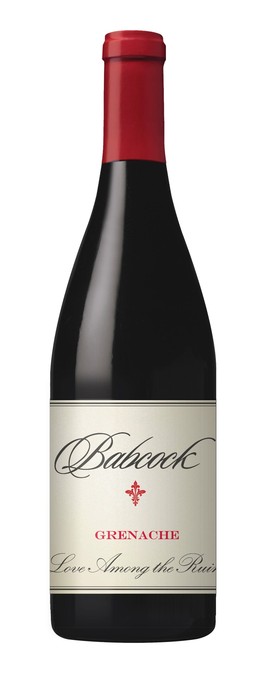 This is our moniker that reconciliation, exploration, and the discovery of great vineyards, in this case great Grenache vineyards, both within the Sta. Rita Hills & beyond. I know people are going to be pleased that this wine is back because the wine is just so delicious. Stylistically, the focus is on capturing that essence of Grenache's character with cranberry, violets, and berries. It is soft, voluptuous, and full of fruit. Structural integrity is there if you want to hold onto it, I'd say it will last 10-15 years. But it is so juicy and friendly right now, there is no real reason to wait.
It describes the fact that the Grenache I purchase from the John Sebastiano Vineyard grows in an area of the Sta. Rita Hills that is essentially the land that was annexed into the appellation when, to my chagrin, the boundaries were changed (expanded) back in 2016. At that time, I was distraught over the whole thing, and I promised myself I would never buy fruit from this annexed area that I started calling the ruins. Then I put this blend together and came to find out that the Sebastiano fruit was grown in a section of the vineyard that is actually in the ruins. UH-Oh! In fact, without the expansion of the Sta. Rita Hills, this wine would not technically/legally be a Sta. Rita Hills blend. So, I had to make a choice; continue to pout and not label this as a Sta. Rita Hills wine, or cozy up to all the vineyards and the farmers in the ruins. I chose the latter. If I were to say it another way, "Love Among the Ruins" really means "Bryan's Reconciliation."
Wine Profile
Vineyard Notes
Along with simply making a great wine, the whole idea behind Status Crow was to represent the new propensity for great red wines coming out of Santa Barbara County. In effect, this new status quo is that Santa Barbara County is now making the biggest, single impact on the American food and wine scene. What better grape to represent this with than Carignan? Carignan is historically considered a very challenging - if not inferior - grape to work with. This 2021 proves, once again, that not only can great Carignan be produced, but that it can be produced incredibly well in Santa Barbara County. This bottling was sourced primarily from the Santa Ynez Vineyard, where we are so blessed to be working with such a great vineyard and farming team. Their management allows me to go on site and work with them side by side, and do some seemingly crazy things together to make great wines. The main obstacle with Carignan is that it is very yield sensitive, meaning it cannot be left unattended to grow its crop in excess. If one wants to make great Carignan, I have found that it's necessary to pull out one's clippers as early as possible in the Spring, and drop half of the crop to the ground. While big yields may seem great in theory, especially to the grower, leaving too much fruit on Carignan can be a disaster. Basically, Carignan does not ripen its crop if it's too weighed down. Taking off half of the crop early on relieves the vines, and allows their remaining clusters to receive the nourishment and attention that ripeness requires. Since I don't own the vineyard, the only way to do this is with a farming team that is on the same journey, a farming team that also wants great wine in the bottle. This 2021 Status Crow is riveting, seductive, and unique; the perfect wine is for all the naysayers who years ago told me I would never make great red wine in Santa Barbara County. Well, not only are we doing it, we are doing it with Carignan, which also makes this wine perfect for the naysayers to sip on while they dine on their crow.
Production Notes
95% Carignan, 5% Alicante Bouchet
Product Reviews