2021 Dream Field
Chardonnay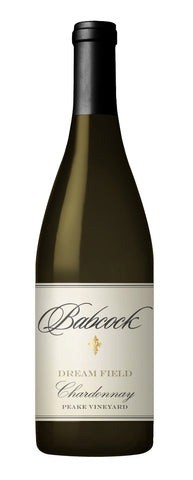 95 points - Wine Enthusiast
"Pioneering vintner Bryan Babcock tapped two of his favorite vineyards, Peake Ranch and Bien Nacido, to craft this compelling wine. Sharp lemon and lemongrass aromas cut like a laser through the peach and honeysuckle of the nose. The palate is energetic with more sharp lemon alongside those warmer stone-fruit and almond flavors."
– Matt Kettmann
The 2021 Dream Field hails primarily from the Peake Ranch in the slightly warmer, eastern end of the Sta. Rita Hills. Peake is immaculately…dare I say… perfectly farmed. When these grapes come in, they almost don't look real; they look like the plastic fruit that you put on the dining room table as a decoration around Thanksgiving. It's crazy, you really have hunt and dig to find any imperfections. The result: Chardonnay with laser beam fruit, good acidity and tremendous texture. Dream Field is a little riper and beefier than its racier counterpart, Top Cream. Drinking Dream Field really is like drinking a dream.
This vintage of Top Cream was a little more mesmerizing with just a little more fat on its bones, while Dream Field was a little dreamier after losing a few pounds. Don't get me wrong, both wines were really good on their own. But if your goal is making world-class Chardonnay, you can't be pigeonholed by anything. I did have to come to grips with losing their respective single vineyard designations. But that's what it took to make the best versions of Top Cream and Dream Field in 2021. As a result, this year's Top Cream is 22% Dream Field, and Dream Field is 22% Top Cream. Both are extraordinary.
At Peake, this Chardonnay grows on an interesting, atypical, northeast facing hillsides. The soil is a darker loam that has that "Botella" look to it. the vineyard can be seen from Santa Rosa Road especially when travelling west toward Lompoc. It is the kind of stunning, slightly edgy hillside that makes winemakers melt. When I first saw this vineyard, I thought, 'Is that thing real'. When I learned that Peake would make some of its fruit available to me, I named it Dream Field.
Product Reviews