2018 Once in a Lifetime
Viognier, Ultra Late Harvest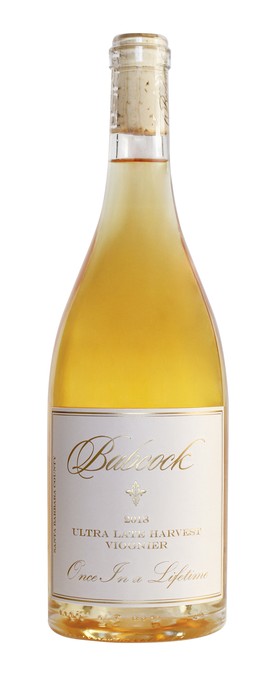 95 points - Antonio Galloni
Each bottle of this sublime dessert wine is like a little miracle. In the vineyard, our quest for extreme ripeness rendered a crop with clusters that were about half raisins, after having been engulfed by the "noble mold" Botrytis. The golden 40 brix! Juice that took a whole day to squeeze out of the shriveled berries had a viscosity which was almost that of a motor oil. To put this in perspective, most of the ripest wines made every year come out of Germany and are in the category of Trockenbeerenauslese (TBA). The threshold for TBA is about 150 to 154 degrees oechsle, which converts to 33 to 35 of the units we use, degrees brix. With any late harvest approach, to go from 30 brix to 35 feels like an order of magnitude in the development of the fruit. It puts you at TBA sugars. To go from 35 brix to 40 feels like a rarely seen, rarely captured, leaving of the stratosphere, as your fruit goes into orbit. On one web site I looked at, the highest level of ripeness even described was 178 degrees oechsle, or 40 brix, right where we are at. I guess they figure that it simply can't get much higher.
In the cellar, we were very fortunate to not run into the kinds of bacteria that can foil an effort like this, turning it into vinegar. After 160 nerve-racking days of a very slow, yet very clean fermentation, the wine finished at 22 degrees brix. Every bottle of this stuff is now like a golden nugget with the with one of the world's most horizontally complex, sublimely sweet wine that was made in 2018.
A really nice thing about it is that you can open a bottle and mesmerize your palate with small servings, and when you return what's left of the nectar to your refrigerator, it stays fresh for weeks, if not months, because the ultra-high residual sugar acts as a preservative. This stuff really doesn't oxidize.
Once in a Lifetime describes the fact that I will most likely never see the stars of a late harvest wine align like this ever again.
Wine Profile
Vineyard Notes
This vintage's signature comes from the amazing Block L at the Bien Nacido Vineyard in the Santa Maria Valley. The vines are 55 Years Old! Someone should give the owners, the Miller Family, a trophy for nurturing and honoring this phenomenal vineyard for so long. The wines that come from these vines are truly magical, interlaced with depth, transparency and minerality.  European lines meet California richness from fruit that was born to be barrel fermented in a Burgundian style.
Winemaker Notes
This vintage of Top Cream was a little more mesmerizing with just a little more fat on its bones, while Dream Field was a little dreamier after losing a few pounds. Don't get me wrong, both wines were really good on their own. But if your goal is making world-class Chardonnay, you can't be pigeonholed by anything. I did have to come to grips with losing their respective single vineyard designations. But that's what it took to make the best versions of Top Cream and Dream Field in 2021. As a result, this year's Top Cream is 22% Dream Field, and Dream Field is 22% Top Cream. Both are extraordinary.
Other Notes
The soil is an almost creamy-looking white sand, and was no doubt something akin to ocean sea bed eons ago. It's the kind of soil that I have seen make stunning Chardonnay over the years in the Sta. Rita Hills. From the perspective of the vineyard, it's that layer of creamy sand that I call the Top Cream. It may not be from my soil, but Top Cream lives!
Product Reviews